Stardust's New baby!!



Stardust is a pretty 4 year old Chestnut mare. She is AMHA registered &sired by Bond Whiffet & out of Dry Creek Lonesome Doves Poppy.Stardust measures in currently around 33". Her grandsire is the legendary Bond Sir Galahad!! She is in my broodmare band and has never been shown, although she would have and still could make a great youth or amateur horse. She loves kids and follows people around like a puppy!

UPDATE-Stardust had her baby late April-we call him Dusty although we hope his registered name will be JR Dust In Time. He was just born late April and is so adorable. He can be registered AMHR but I will leave that up to his buyer! He is NOW for sale ONLY $225 not registered or $500 AMHR registered (because his dam is AMHA,sire is AMHR). I have too many boys!! Email me for details if you are interested. He has great breeding as he is a great grandson of the legendary Bond Sir Galahad.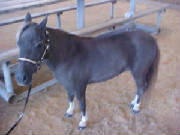 Feliziana at the AMHR Conroe show 2007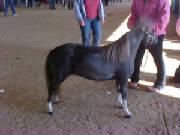 Feliziana is now retired from the show ring and has joined her big sister and the others in the broodmare band. She received some great training in halter and in halter obstacle from JUST WON training center. She had also started on Hunter/Jumper but slipped in the mud coming down from a jump and hurt herself. She's fine now, but I decided I didn't want to take any more chances with her (she's still my baby!) so I brought her home.
***sold-congratulations to the Morris family in New Mexico-RR Wee Bubble Baby

 

Baby is the first baby miniature horse born on Rychlik Ranch. I didn't breed her dam, just bought her a few months before Baby was scheduled to arrive. She looks like a big cotton ball when she has her winter coat on. Baby is a real sweetheart! She is a beautiful cremello colored yearling filly about 26" tall. She is AMHR registered.Baby would make a great pet,companion or ? Baby has since been sold and now resides with a great family in New Mexico!

SOLD!!!!Here's a picture of Baby (now nicknamed Wee D) all grown up with her new owners!
This is my new "girl" Annabelle. Actually her name is Rainfield Farms Annabelle.She's 25% Arenosa. She is a granddaughter of the great FWF Kewpies Charro of Arenosa& and great grandaughter of Rowdy. She's by Rabbit Hutch Ranch Charros Chieftan and out of Rainfield Farms Ringmaster's Rose. She's got one blue eye and a cute little dishy face. She will spend the upcoming months getting to know her way around here and then in the future enter the show ring. Later she will enter my broodmare band. She's got that Arenosa spunk for sure!
Fieldstone Bond Gigi is Stardust's younger sister (and Feliziana's 1/2 sister). Gigi is soon to be 3 years old, AMHA registered. However she is a lot smaller than her big sister measuring around 30" tall. She too is a chestnut-I've been told a silver chestnut . She has dappling & a beautiful flaxen mane & tail as you can see.Gigi is currently for sale-$1500(firm). While she isn't AMHR reg. she could be if you chose to do so. Gigi has lots of personality in her little body!! She loves to run and acts way bigger than her size!Recently though she has dropped a rung or two in the pecking order and is now more subdued. I doubt she'll mature much over 31", if so it shouldn't be much over! She will join her big sister Stardust in 2007 in the broodmare band if not sold. 1/5/07-**UPDATE GIGI HAS BEEN SOLD and IS HEADED TO NY CONGRATs TO HER NEW OWNER!!! WE will miss her!

Fieldstone Bond Gigi-AMHA Reg.

SOLD !!!!!
MREQ Firecrackers Pocket Rocket (aka Rocket) is also a new addition. This little gelding is 25% Arenosa and is sired by Rabbit Hutch Charros Firecracker and out Suncrest Khaki N Lace. He has had a season of training by Mindy Reid and hopefully will be back in the show ring soon.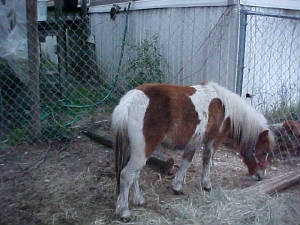 BELOW-This is Taylor's Little Bubbles. She's the old "gal" around here. Bubbles is going to be 15 years old in July 2007 and is a nice AMHR registered class B mini. She has a good conformation & is the dam of Baby & Rocky. She's a great Mom, but she's not exactly the friendliest horse. Bubbles is for sale -ONLY $350!
Her new BABY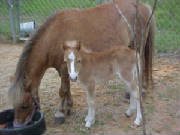 Little Bit
Taylor's Little Bubbles-!! . She is a great Mom and I'm eager to see her latest baby. 2 of her last 3 babies were both white (or cremello/champagne??) but as you can see the last one is a Palomino!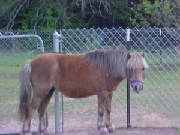 Little Bit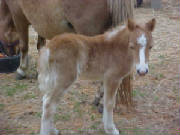 NEWEST Addition-FOR SALE-$325
Bubbles is also for sale. I have or had her last 2 years babies-Rocky & Baby. See their pictures on this page. She has good conformation, good teeth & has her babies with no help from people!She would have really awesome babies if bred to a nice stallion. Bubbles is AMHR Registered, B size mini-38" tall.**update 5/4/07 Bubbles had her baby-its a colt- see pics.This baby is by my AMHR stallion so it will be registered also. Her last 2 babies by him were both solid white's but this one is either a light sorrel or dark palomino. Bubbles is 16 going on 17years old and is the "head" mare around here. She is very protective of her babies when she has them. She had babies every year for most of her life from what I gathered from previous owner (all by the little AMHR stallion I keep referring to) and was not really worked with much. She was supposedly trained to pull a cart but if so, that was years ago. She barely seemed halter broken when I got her. I worked with her some, she will lead now but doesn't much care for people unless you have a bucket of feed or treats then she loves you! She tolerates the farrier and hasn't been sick that I know of.