I started raising Miniature horses about 3 or yrs ago as just a hobby and due to my love of horses. That and it gave me something to occupy myself with after I got home from work. I went to by 1 and ended up coming home with 3.I lovedyed the 1st three I bought so much I had to have more. Right now the Ranch is a small place with a small herd currently numbering 8 mini horses since I just sold one and another lives with the trainer. All my horses are halter broken,wormed, however some will need a recent Coggins.In addition, all are registered either with AMHA, AMHR or both,. My pictures aren't the best but if you'll email me I'll try to take and send you some better ones.! You'll notice most of my horses are for sale, I'm not getting out of the business, just set a price I was willing to take on any of them, with the exception of Fieldstone Feliziana. She is NOT currently for sale. What can I say, she's my baby!
Feliziana @ Conroe show 4/2007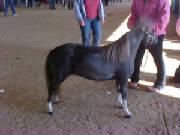 This is Fieldstone Feliziana.Her first show season was a real learning experience for the both of us.Feliziana qualified for the Regional shows and the AMHA Nationals in her first season! Her second season I decided she should try to learn hunter/jumper too in addition to obstacle. She was just getting good in obstacle and had started jumping when she slipped in the mud while coming off a jump. She started limping and although she was fine, I decided I didn't want to take any chances with her and retired her from the show ring. Many thanks go to her trainers at Just Won Training Center!. She is hopefully now in foal as she has taken her place in my small broodmare band.! Feliziana is a beautiful silver chestnut dapple 3 year old (turns 4 in 2008) filly & has great breeding,good conformation & a wonderful disposition! The great Bond Sir Galahad is her Grandsire. She is very petite, well built and currently is around 32.75" tall.